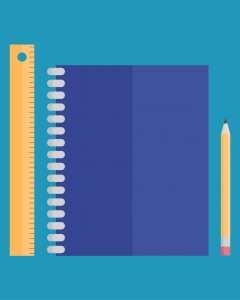 Whether you are a startup company or one that has been around for ages, a creative studio is important for creating an image for your brand. You might be wondering what a creative studio is and whether it is different than a design studio. A graphic design studio tends to focus on creating a logo and calling it a day. A design studio can do more than make a logo, but the main focus is on graphic design or illustrations and not on the big picture of your project. A creative studio can do the logos, animations, and the artsy side of a project, but it can also lay out your pages, help plan the art, and provide a marketing eye. Creative studios are more big picture.
There are a few things you need to think about as you search for creative studios: size, price, and location.
The size of a creative studio can make a difference in your relationship with the company and the amount of direction you have once you hand over your project. A small to medium-sized company will provide a more personal experience; it can handle the big projects, but it is small enough to still have time for you and discuss your vision. Larger creative studios, on the other hand, have a much larger client base, so they have less incentive to keep each individual client happy. If you want a more personal experience, you want a small to medium-sized creative studio.
The second thing you need to know is the price. Everyone has a bottom line, but a subpar piece of design will hurt you more than parting with a few extra dollars to get the quality you deserve. Price does matter when it comes to graphic design, animation, and any other creative services you might need. A graphic design studio can create excellent pieces for a project, so if the creative studio does not, the creative studio is no longer a better option than a graphic design studio.
The third thing to bear in mind is location. With today's technology, don't be afraid to reach out to a company in another state. All the creative studio's services can be handled digitally, and communication with the company is easier now than ever.
After you have researched companies, pick a few that look good to you. You want to look at creative studios that are well rounded. If they really stress their logo design and not any other services like marketing, animation, or other print collateral, you might want to skip them. If you wanted a design studio, you would've looked for one. A creative studio should be able to offer many services, which is great for you because they can help with other projects or expand on your project later. Once you find some well-rounded creative studios, you will want to look for their portfolios. Most creative studios will have portfolios on their website. If it is difficult to find their portfolio or you have to contact them to see any samples of their work, you should seek a different company. Portfolios reflect the creative studio, and if it isn't enthusiastically showing off its work, there's a reason. Before making up your mind about any of them, make sure to reach out and see if they would be interested in your project. Remember: a good creative studio will do research and look into your project and company to offer suggestions if they are truly interested in your project.
Creative studios can do a lot. They can help give you a brand and a message. They can get people to pay attention to infographics or use layout to show audiences the information they absolutely need to know. If you think you might want to rebrand the company you already have or start a company that needs some work from a creative studio, contact Lachina today.