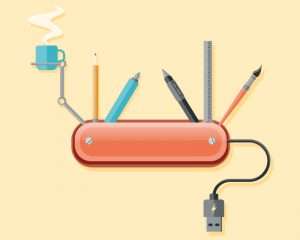 Graphic Design and illustration is an important part of marketing a company or product. With the internet, your intended audience sees a million ads a day, so how do you attract them to you? Graphic design. Graphic design and illustration takes the art and text and combines them in a way that will attract your target audience. If you don't have a graphic design department for your marketing, you can always outsource the project.
This is why you should outsource your graphic design and illustration needs.
Time-saving: graphic design can be a very time-consuming job. Some projects, like a one-page flyer, may take three or four hours to complete, but a logo for a brand could take weeks. Outsourcing the graphic design project will help you conserve your company's time and resources.
High quality of work: When you outsource your graphic design projects to an agency, you can be sure that the work will be the best they can give. An agency has a full-time staff who focus on graphic design and depend on reviews to keep growing their business. They will make sure everything is to your liking and of the highest quality to make sure you would tell other businesses about their work or to continue sending them projects.
Cost-effective: When looking to outsource your graphic design project price can sometimes be a big factor in who you choose to hire for the project. The price of a project might seem higher than expected, but it is much cheaper in the long run. It is more economical to outsource the graphic design project to an agency with a higher price tag than it would be to hire your own full-time staff, pay for the computers and materials, and pay for the software.
Ongoing project: Once you do outsource the first project you have a couple options. If you did not like the customer service of the agency or did not like the quality of the project, you can take your business elsewhere. However, if you did like the work done, you can now start an ongoing relationship with the agency you used. A relationship with the agency can help you get better products because the designer will know your style better and already be familiar with your brand and will not need to take the time to be introduced to your ideas.
Hiring experts: A great benefit to outsourcing to an agency is knowing you are hiring experts. The agency will have designers who have worked with many companies and done many different styles. They will have insight into what looks best and the newest techniques. Their job is to be creative and to have new ideas for their clients, so you can guarantee that they will have fresh ideas for you.
If you think you might want to outsource your graphic design projects or have any questions about what graphic design can do, give us a call.